Charlestown Market Update - August 2023
Today, we'll carefully analyze critical real estate metrics in Charlestown, MA, providing valuable insights for both buyers and sellers seeking to understand the current market trends.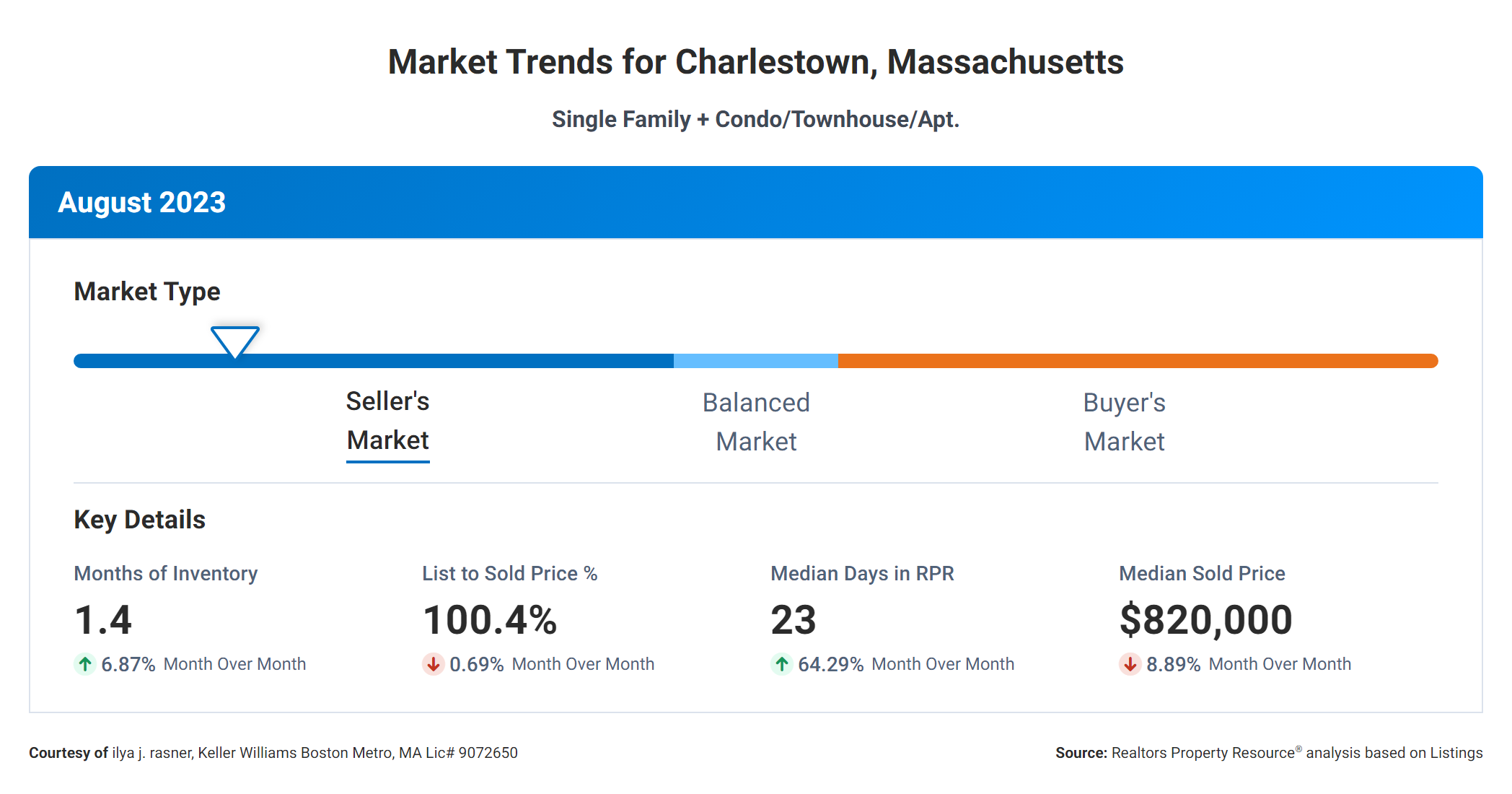 Months Supply of Inventory: A Seller's Paradise
Let's start by peering into the Months Supply of Inventory, which currently stands at a mere 1.4. This metric represents the estimated time it would take to exhaust all available homes on the market, assuming no new listings emerge. With such a low figure of 1.4, it's clear that we're in the midst of a seller's market, where demand significantly outpaces supply. This situation inevitably leads to heightened competition among buyers, making it essential for them to act swiftly.

12-Month Change in Months of Inventory: A Drastic -33.01% Decline
Turning our attention to the 12-Month Change in Months of Inventory, we are met with a remarkable -33.01% decrease. This negative percentage signifies a substantial reduction in the time it would take to sell available homes compared to the previous year. This decline underscores a tightening market where inventory is rapidly dwindling, potentially intensifying the competition among prospective buyers.


Median Days Homes are On the Market: Blink and You'll Miss It
The next stop on our journey is the Median Days Homes are On the Market, which reveals an astonishingly low figure of just 23 days. This metric reflects the average number of days a property remains listed before being sold. With homes changing hands in a mere 23 days, this market boasts high buyer demand and limited supply. Sellers can expect their properties to be snatched up swiftly, and buyers need to act promptly to secure their dream homes.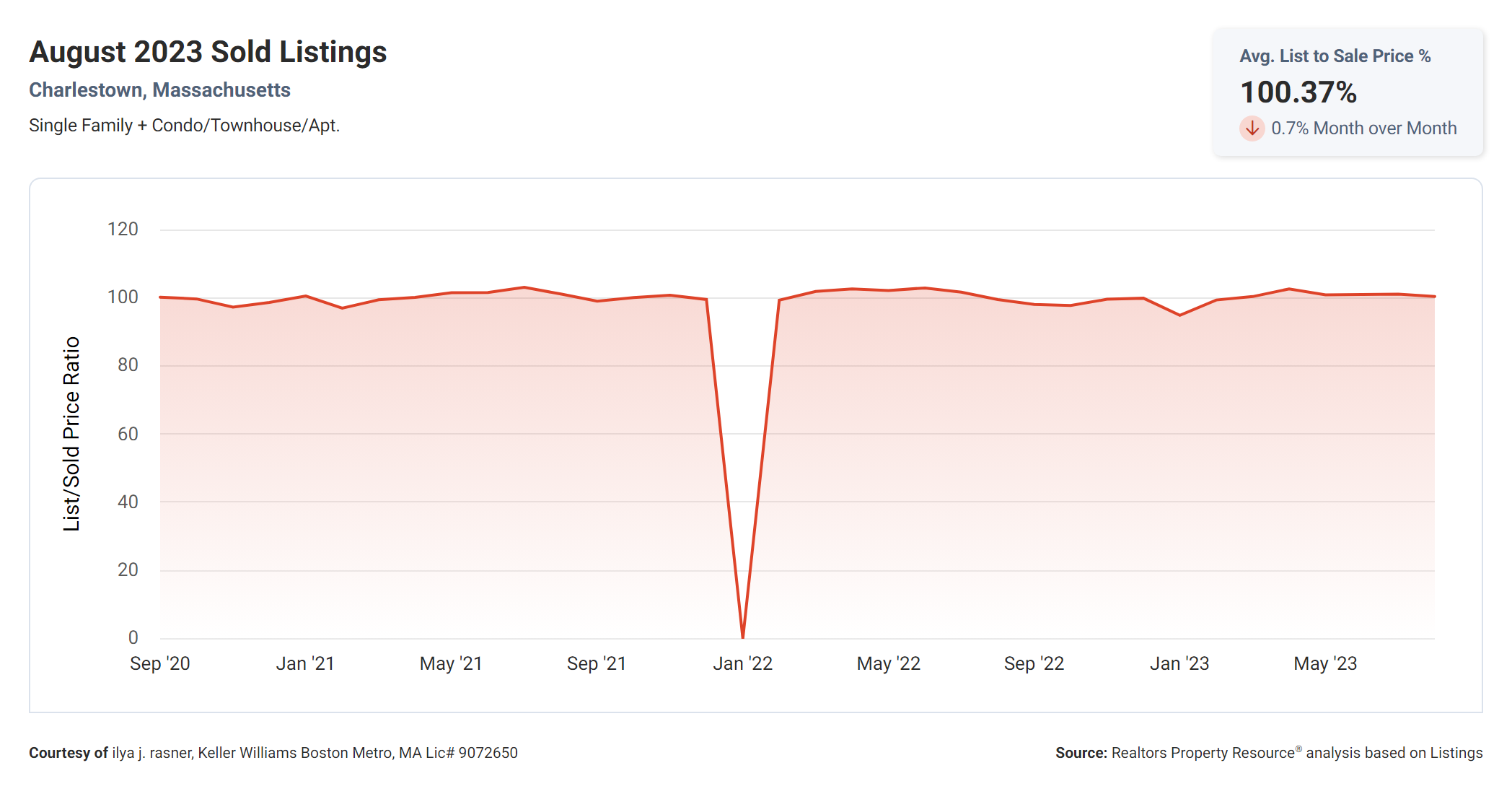 List to Sold Price Percentage: Sellers Rejoice
Our exploration continues with the List to Sold Price Percentage, standing tall at an impressive 100.4%. This metric indicates the ratio of the final sold price to the initially listed price. A figure exceeding 100% implies that, on average, homes are selling for more than their initial listing price. This underscores the dominance of a robust seller's market, where buyers might need to engage in competitive bidding to secure their desired properties.


Median Sold Price: A Strong Market Signal
Lastly, we arrive at the Median Sold Price, currently resting at an impressive $820,000. This metric represents the midpoint of all sold prices within this market. With a median sold price of $820,000, we are signaling the presence of higher-end properties and a location that commands strong demand.
In Summary
In summary, we've embarked on a journey through various real estate metrics that offer invaluable insights into Charlestown, MA's current market conditions. With a minimal Months Supply of Inventory and a substantial decrease in the 12-Month Change in Months of Inventory, the market undeniably favors sellers. The swift turnaround reflected in the Median Days Homes are On the Market reinforces the notion of a fast-paced environment. The List to Sold Price Percentage serves as a warning that buyers should prepare for competitive bidding, and the Median Sold Price signals a market with higher-end properties and robust demand.
Armed with this knowledge, buyers and sellers alike can make informed decisions and navigate the dynamic real estate landscape with confidence. Whether you're in pursuit of your dream home or aiming to sell your property at a competitive price, understanding these metrics will prove invaluable in your real estate journey.
For More Info, Here's the Link to Download the Market Update:
Download Charlestown Market Update
This comprehensive report provides even more in-depth insights into the current state of the Charlestown real estate market, helping you stay ahead in this ever-evolving landscape. Don't miss out on this valuable resource!