A Guide to Closing Costs in Massachusetts Real Estate Transactions
Are you considering buying or selling a property in Massachusetts? It's crucial to understand the various closing costs associated with real estate transactions in the state. Closing costs are expenses incurred during the final stages of the buying or selling process, and they can have a significant impact on your financial planning. In this guide, we'll break down the common closing costs in Massachusetts and explain who is typically responsible for each.
Common Closing Costs for Buyers
1. Loan-Related Costs (Buyer): When obtaining a mortgage, buyers may face origination fees, which cover the processing of the mortgage application, and appraisal fees to determine the property's value. Credit report fees are also common during this stage.
2. Property Taxes (Both): Property taxes are typically prorated between the buyer and the seller based on the closing date. The buyer pays their share of the property taxes for the portion of the year they will own the property.
3. Title Search and Title Insurance (Both): Ensuring a clear title is essential. Both parties share the cost of the title search, which verifies the property's ownership history. Buyers usually purchase lender's title insurance to protect the lender, and owner's title insurance can protect the buyer's interests.
4. Recording Fees (Both): These fees cover the cost of recording the necessary documents with the county, including the deed and mortgage documents.
5. Home Inspection (Buyer): Though not a traditional closing cost, buyers often hire a home inspector to assess the property's condition before closing.
6. Attorney's Fees (Buyer): In Massachusetts, an attorney must be involved in real estate transactions. Buyers typically incur attorney's fees for legal guidance and assistance throughout the closing process.
7. Prepaid Items (Buyer): This includes property taxes, homeowners' insurance, and prepaid interest that may be required by the lender.
Common Closing Costs for Sellers
1. Real Estate Agent Commissions (Seller): Commissions for both the listing agent and the buyer's agent are typically paid by the seller. These fees are around 5-6% of the sale price.
2. Outstanding Loan Balances (Seller): Sellers need to pay off the remaining balance on their mortgage, including the principal and accrued interest.
3. Municipal Liens and Fees (Seller): Any outstanding property taxes, water, sewer bills, or other municipal charges are settled by the seller.
4. Attorney's Fees (Seller): Sellers also have attorney's fees for legal representation and assistance during the closing process.
5. Title V Inspection (Seller): If the property has a septic system, a Title V inspection may be required to ensure compliance with state standards.
6. Smoke/CO Detector Certificates (Seller): Massachusetts law requires specific certifications for smoke and carbon monoxide detectors. Sellers are responsible for obtaining these certificates.
7. Repairs and Credits (Both): Costs related to negotiated repairs or credits are shared between the buyer and the seller.
Understanding these closing costs is essential for both buyers and sellers in Massachusetts. Keep in mind that these costs are subject to change and can vary based on specific circumstances and local regulations. Consulting with real estate professionals and legal experts is highly recommended to ensure you're well-prepared for your real estate transaction.
Remember, real estate is a complex field, and having the right professionals on your side can make the process smoother and less daunting. Whether you're buying or selling, taking the time to understand these closing costs will help you budget effectively and avoid any surprises during the final stages of the transaction.
Reference: For a visual summary of the closing costs discussed in this guide, be sure to check out our informative infographic below.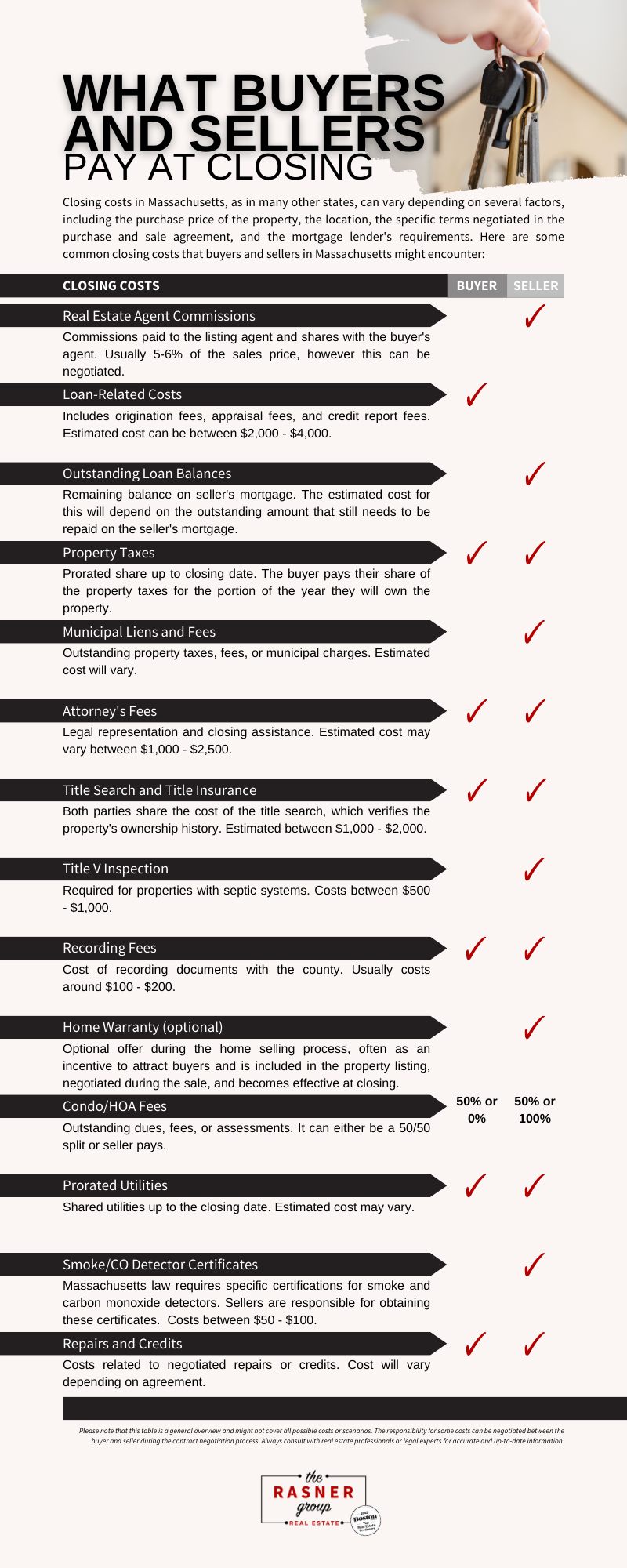 Disclaimer: This infographic is for illustrative purposes only and should not be considered a substitute for professional advice. Closing costs can vary based on specific circumstances and should be discussed with qualified real estate professionals.

Selling Your Home?
Get your home's value - our custom reports include accurate and up to date information.
Get Home Value