A Comprehensive Listing Checklist for Sellers: From Pre-Listing to Closing
Selling a property can be both an exciting and nerve-wracking endeavor. The journey from the decision to sell to the final closing can be complex, with numerous tasks to handle along the way. To navigate this process successfully and ensure a smooth sale, a comprehensive listing checklist is an essential tool for sellers. Whether you're a first-time seller or have experience in real estate transactions, having a structured plan in place can make a significant difference in achieving your goals. In this guide, we'll take you through each phase of the home selling process, highlighting the key tasks to tackle in order to maximize your property's appeal and secure a successful sale.
Pre-Listing Phase: Getting Your Property Ready
Research the Market and Determine Your Selling Price: Start by researching recent comparable sales in your area to get an accurate idea of the current market value of your property. Pricing your home competitively is crucial for attracting potential buyers.
Declutter and Depersonalize Your Home: Create a clean and inviting space by decluttering and depersonalizing your home. This helps potential buyers envision themselves living in the space and allows them to focus on the property's features.
Complete Necessary Repairs or Renovations: Take care of any repairs or renovations that may have an impact on the overall appeal of your home. Preventing maintenance worries from deterring potential buyers is possible by addressing issues beforehand.
Hire a Professional Photographer: High-quality listing photos are essential for making a positive first impression online. A professional photographer can capture your property's best angles and showcase its features effectively.
Create an Attractive Online Listing: Craft a compelling online listing that includes detailed property information, features, and highlights. An engaging property description can help generate interest among potential buyers.
Marketing Your Property: Attracting Potential Buyers
Promote Your Listing through Various Channels: Utilize online listing platforms and consider investing in social media ads to increase your property's visibility to a wider audience.
Host Open Houses or Private Showings: Provide opportunities for potential buyers to physically experience your property. Open houses and private showings allow them to see the space firsthand and ask questions.
Create Eye-Catching Marketing Materials: Design visually appealing flyers or brochures that highlight your property's key features. These materials can leave a lasting impression on potential buyers.
Negotiating Offers: Evaluating and Responding to Offers from Buyers
Evaluate Each Offer Carefully: Carefully review each offer you receive, considering not only the offered price but also any contingencies and the qualifications of the buyer.
Collaborate with Your Real Estate Agent: Work closely with your real estate agent to navigate the negotiation process. Their expertise can help you secure terms that align with your goals.
The Closing Process: Finalizing the Sale
Gather All Necessary Documents and Paperwork: Ensure you have all the required documents in order, including property disclosures, inspection reports, and legal paperwork.
Coordinate with Relevant Parties: Communicate with your real estate agent, buyer's agent, and title company to coordinate the details of the closing process. Clear communication is key to a smooth closing.
Review the Settlement Statement: Thoroughly review the settlement statement to confirm all the financial aspects of the sale. This document outlines the final terms and costs associated with the transaction.
In the dynamic world of real estate, a well-executed listing checklist can be the cornerstone of a successful home sale. From preparing your property for the market to effectively marketing it and navigating the negotiation and closing processes, each step plays a vital role in achieving your selling goals. By following a comprehensive listing checklist, you can approach the home selling journey with confidence, knowing that you've covered all the essential tasks to make your property stand out, attract potential buyers, and ultimately secure a successful sale.
Happy selling!
Seller Listing Checklist [Infographic]
As you embark on your home selling journey, we're here to help! We've prepared a handy checklist for a visual representation. With this resource at your fingertips, you'll be well-equipped to navigate the intricate process of selling your property and achieve the best possible outcome.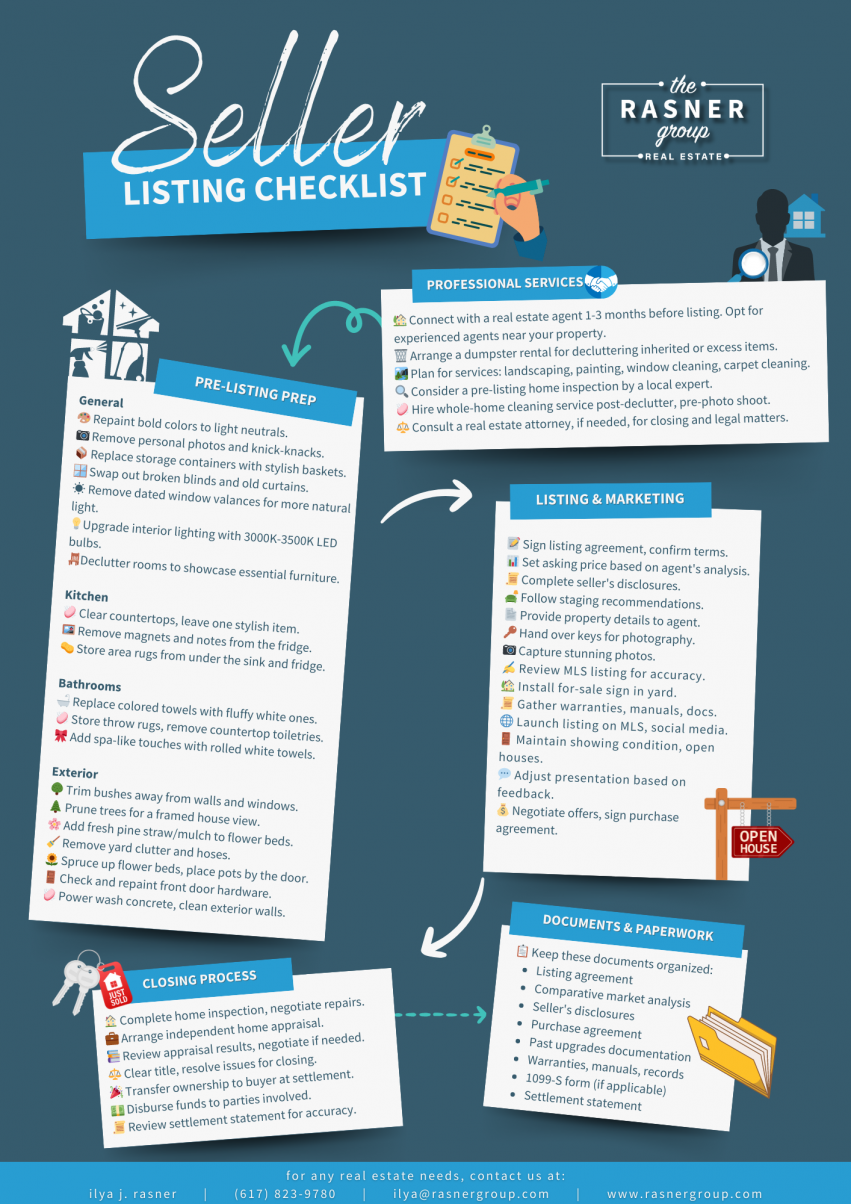 Selling Your Home?
Get your home's value - our custom reports include accurate and up to date information.
Get Home Value