Voted Best Boston Real Estate Agent!
We are proud to announce Ilya Jacob Rasner was voted Best Realtor®! Over the summer, the company Renoviso asked its readers to choose the best Realtor in the Boston area.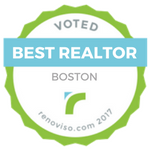 We are so grateful to all who voted for Ilya. We truly value and appreciate all our clients who not only trust Ilya and the rest of the Rasner Group to help them buy or sell their home, but continue to tell their family and friends about their excellent experience.
"Everything was well prepared and planned out going into the process and it was clear to us what our role was and how we would be working together. Ilya also was able to negotiate well with the buyer's agent and we ended up getting a lot of things worked out in our favor." -- Nick G
"Ilya was incredibly helpful! He was patient and educated me about the process in great detail. I appreciated that he would provide me with all of the facts and discuss the pros and cons, so I could made the best educated decision/investment." -- Eleanor D.
To set up a consultation with Ilya, please call or text 617-823-9780 or email [email protected]